In this article, we'll take a look at the best thermal monoculars you can buy without worrying about making a massive hole in your household budget. Our selected models have proven excellent for hunting, camping, animal watching, property guarding, and search and rescue operations. In addition, they are all engineered to withstand harsh weather conditions with increased durability and reliability. If you're interested in a practical workhorse for your day-to-day needs, then you've come to the right place.
How Thermal Monoculars Work
For more practical use, it is necessary to understand the principle of a thermal imaging monocular operation. The work is based on measuring the temperature of the surfaces of all objects that fall into the field of view of the camera. The device collects data and converts it into a video image online. The more sensitive the sensor, the more detailed the image is obtained. Note that the operation of the device is not affected by lighting. The thermal imager only works with temperature. It is undoubtedly effective at night and works great in daylight and no light at all. The thermal imaging monocular can be used in rain, snow, fog, smoke, where other night vision devices cannot cope. Since the device registers temperature, it can be used to detect living or warm objects in dense vegetation, snow, and rock fragments, where our vision cannot cope. For example, the natural camouflage of animals will no longer interfere with their detection. If they are warm, the thermal imaging monocular will highlight them in a colder background. Thus, we have a universal gadget with practically no limited scope.
Best Cheap Thermal Imaging Monocular
Now on to our list of the best monocular at a reasonable price. First, let's take a look at the lightest thermal monocular, the FLIR Scout TK.
1
AGM Asp-Micro TM160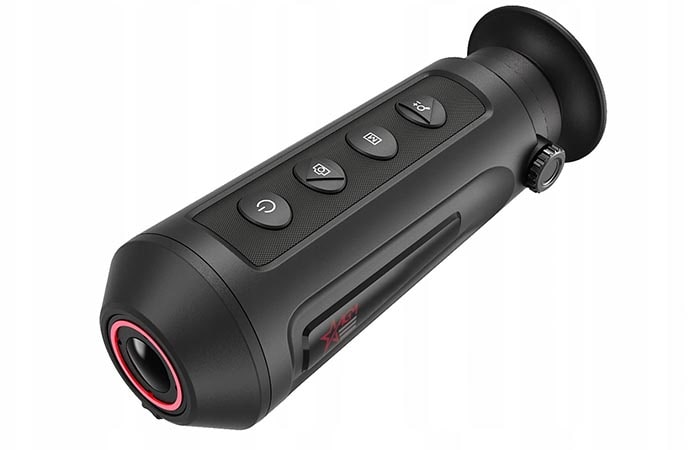 AGM Asp-Micro TM160 is a compromise between price and excellent performance. It is equipped with sensitive 160 × 120 detectors with a response frequency of 8-14 microns and a refresh rate of 50 Hz. With a wide viewing angle of 15.61 × 11.74 and an LCOS display, 720 x 540, these inputs produce superbly sharp images and natural motion reproduction. The optical characteristics of the Asp-Micro TM160 are almost impossible to find in this price segment of thermal monocular. But they are stable favorites among the upper and mid-range.
Small size 6.3 x 2.4 x 2.2 inches, lightweight 0.6 lbs., allows you to attach the monocular to a helmet, fasten to a belt, wear around the neck, set on a tripod, or carry in a jacket pocket.
Four color palettes and simple controls will provide comfortable monitoring for 7 hours. If you wish, you can take photos and videos on an 8 GB memory card.
The Asp-Micro TM160 has a solid detection range of 611-199 yards. If necessary, zoom 2x-8x enlarges the picture. An excellent addition in a rangefinder and marking the hottest spot will facilitate orientation and provide quick target detection. The shock-resistant body of the monocular is made with IP67 protection and can be used in the harshest climatic conditions.
The excellent performance of the AGM Asp-Micro TM160 has gained popularity with law enforcement, rescue services, security agencies, hunters, travelers, nature lovers, and military sports games.
Undoubtedly, the AGM Asp-Micro TM160 is our top pick on today's list. Although we've made our choice among inexpensive thermal monocular, you probably still have to decide your preferences. We want to ease your difficult task a little and mark several essential points that you should pay attention to.
2
FLIR Scout TK Thermal Vision Monocular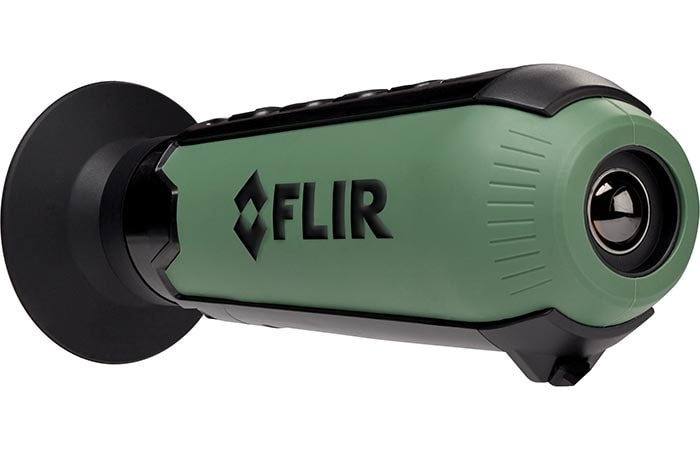 Compact size, lightweight - only 6 ounces, ease of use with one hand caught our attention. It will be helpful for short-range observation. The detection range is about one hundred yards. This can be home security, hunting, travel, bird watching, outdoor sports. The FLIR Scout TK features a rubberized weatherproof housing with an IP-67 waterproof rating. This means that it will withstand the most adverse weather conditions, up to submersion in one meter of water for 30 minutes. It is equipped with an LCD with a resolution of 640 × 480 pixels. One hundred images or four hours of video can be recorded on the built-in memory card or transferred via USB to third-party media. The frame refresh rate is low, only 9 Hz, which will affect the online video quality. But do not forget that this is a relatively budget model and we will not demand too much from it.
Nevertheless, stable operation on the built-in lithium-ion battery for 4 hours is ensured. Viewing comfort is provided by a soft rubber eyecup and adjustable diopter adjustment. The FLIR Scout TK is reliable short-term surveillance equipment in confined spaces. Lightweight and practical is the best value for the money.
3
AGM TAIPAN TM10-256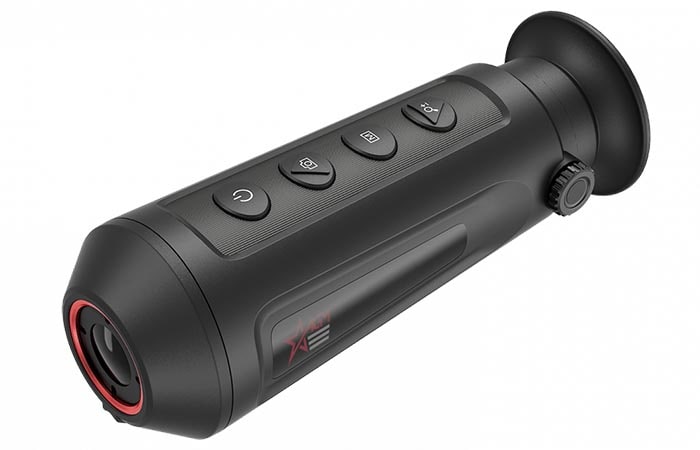 If you are not satisfied with the picture quality or the FLIR Scout TK runtime, we have something better to offer, such as the AGM TAIPAN TM10-256. But, as we all understand, higher-tech equipment will require an increase in the purchase budget. However, it always pays off thanks to its advanced features. TAIPAN TM10-256 is equipped with an LCOS 720 × 540 display at 50 Hz, which gives a clear, high-quality image with the natural movement of objects in real-time. The monocular is equipped with a temperature sensor with a resolution of 256 × 192, making it possible to capture minor temperature fluctuations and give a more detailed image of the area. Thanks to the magnification from 2x to 8x and the detection range of 458 sq. TAIPAN TM10-256 will allow you to detect a target at a considerable distance, bring it closer and identify it, even in poor visibility conditions.
The lithium battery provides eight hours of continuous operation, which is quite enough, even for the needs of a professional. It slightly increases the product's overall weight to 0.57 lbs. But the environmental concerns of no discarded batteries offset this tiny inconvenience.
The monocular allows you to take photos and videos that can be saved on the built-in 8 GB memory or transferred via Wi-Fi to third-party media. Wi-Fi enables you to share information with loved ones or establish observation of the target, being at a distance from the monocular. It can be mounted on a tripod and organized comfortably, covert surveillance from a shelter or home.
The hottest point tracking mode can be helpful for firefighters, rescuers, hunters, and law enforcement agencies. Note that the flat field correction can occur in three methods, including silent, which is essential for covert observation or hunting.
Four palettes, multi-language menu, convenient operation, shockproof housing with IP67 protection, rangefinder function, 3-year warranty - this is not a complete list of the advantages of the monocular. TAIPAN TM10-256 will be valid for search and rescue activities, the needs of the security sector, hunting, and sports. In a word, this device is designed for professionals in their field. And note that it has a very reasonable price.
4
Sector Optics T20 3-5.5x Thermal Imager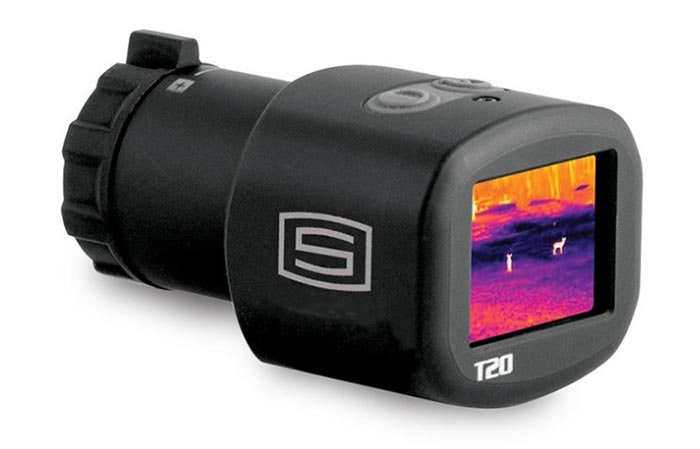 This thermal imaging monocular features a compact size of 70 x 46 x 39mm. Despite the low resolution of 60 * 80, a 30 mm tube, a spectral range of 8-14 microns, and a viewing angle of 17 to 9 degrees give a good image for its price segment. Sector Optics is equipped with a 1.3 ″ OLED display with a refresh rate of 9 Hz. This is not much, but this frequency is enough for solving everyday household tasks. The monocular has a magnification from 3x to 5.5x and can detect a target at a distance of 75-150 m. The battery charge is enough to work for 4 hours. Sector Optics T20 is presented in the basic configuration and does not provide additional functions, such as video recording. It is an inexpensive model, reliable and compact. They are designed for home protection, camping, travel, nature observation, and solving everyday problems.
5
ATN OTS LT 160 3-6X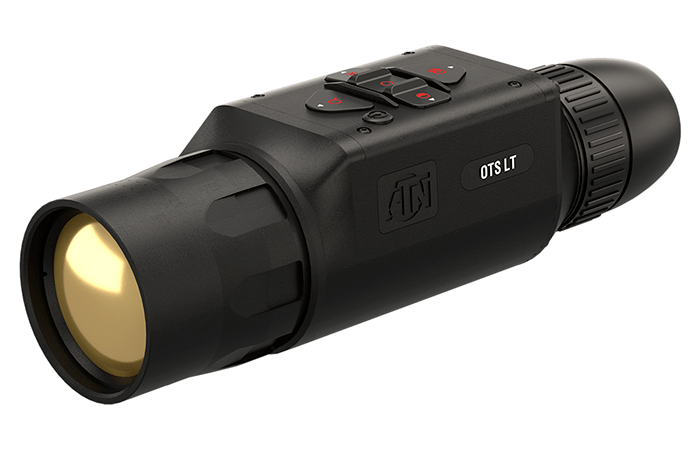 This thermal imaging monocular is medium in size and weight and can be worn around the neck like binoculars for freehand. It is equipped with an OLED display with a resolution of 1280x960 and an excellent refresh rate of 60 Hz. 19mm lens with 8.1x6.2 angle of view and 160x120 matrix give good images in all conditions.
The target detection range is 475 m, recognition is 240 m, and identification is 160 m. If necessary, you can enlarge the target. There is a zoom from 3x to 6x.
But despite the excellent optics, this monocular does not take photos and videos. It doesn't have Wi-Fi or Bluetooth, rangefinder. This monocular is for people who do not want to overpay for unnecessary functions but want a high-quality thermal imager with excellent parameters.
ATN OTS LT 160 3-6X can work for 10 hours and with a battery of increased capacity up to 15 hours. Such a solid range is possible due to the lack of Wi-Fi. As you can see, here is precisely the case when advantages originate in disadvantages.
A pleasant bonus is a three-year warranty, diopter adjustment for vision features, and housing with a protection degree of Ip 67. Based on the above, the ATN OTS LT 160 3-6X will be an excellent assistant for hunting, nature observation, camping, sports games.
6
Solomark Night Vision Monocular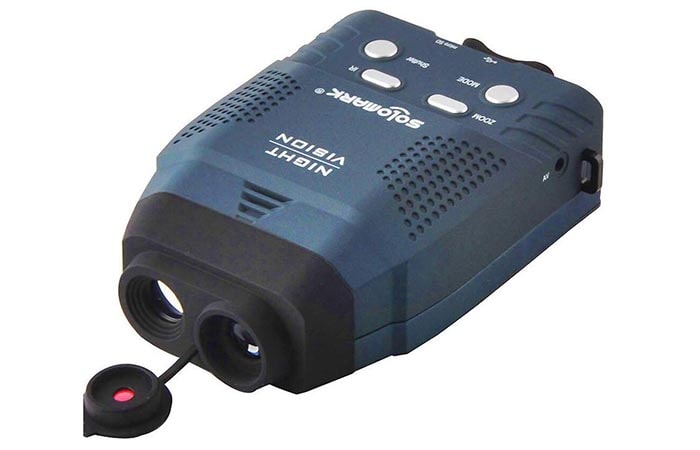 This is a budget model with a 640 x 480 resolution that almost everyone can afford. It will be helpful for hiking, observing nature, exploring caves. Detection range 328 feet. It is possible to record photos and videos on a memory card up to 32 GB and view the material on a computer. The monocular can be worn around the neck, mounted on a tripod, or carried in a bag. It runs on four batteries for five hours. The controls are so straightforward that even a child can handle them. This gadget will be an excellent addition to your family vacation and will allow you to capture the exciting moments of your hobby.
How to choose the best thermal monocular?
Among the main parameters worthy of your attention, we highlight a few: the resolution of the thermal sensor, screen resolution, screen refresh rate, detection range, viewing angle, lens diameter, magnification, operating time, Wi-Fi, memory card, compactness, and weight of the monocular, degree of protection of the case ... It's nice if there are additions in the form of a rangefinder, an extended warranty period. Let's consider the main points.
Thermal sensor resolution
The higher it is, the more detailed the image will appear on the screen. The resolution was minimal in the first primitive thermal imagers, and the screen was covered with squares of pixels. You could play the game "guess who it is?" In modern gadgets, things are much better, but the low resolution will still give blurry outlines of subjects when the picture is enlarged. If seeing details is important to you, aim for a higher thermal sensor resolution.
Screen resolution
It is responsible for the quality of the image. The higher the resolution, the more precise your pictures will be. Sometimes the details change the whole game. For example, when determining the sex and age of a deer on a hunt. High resolution will reduce errors to zero but will affect the price of equipment. Therefore, when considering budget-friendly purchasing options, it makes sense to aim for average screen resolutions.
Screen refresh rate
This parameter is responsible for the synchronization of displaying events on the monitor screen. A low frequency of 9 Hz will give a slightly lagging display of motion. A frequency of 30 Hz is considered adequate for decision-making and response. A frequency of 50-60 Hz is optimal for the fastest possible response to events.
Detection range
This parameter is essential for the choice of equipment. The greater the detection range, the higher the price. Typically, a couple of hundred yards will be sufficient for the needs of homeowners, hunters, and wildlife enthusiasts. Professionals use devices with a high detection range, and these are not budget options at all.
Viewing angle
This parameter is responsible for the coverage of the area observed on the screen. A wider angle will cover the surrounding area, and a narrower one will concentrate on remote locations. Higher numbers mean that you do not have to move the monocular along the terrain to cover the picture entirely. High values will allow the scene of interest to be displayed simply on the screen and not in parts.
Objective diameter
He is responsible for the amount of incoming information received for processing. The wider the lens, the more detailed and widescreen the image will be. But when used in the wild, a wide lens is at risk of accidental damage. In addition, a wide lens increases the weight and price of the product. Therefore, choosing the average value of the objective diameter, it is possible to strike a balance between image quality, weight, cost, and the degree of protection of the device.
Zoom
With a good screen resolution, the zoom works flawlessly. Magnification from 1x to 4x should be sufficient for most tasks. But it should be borne in mind that even a large zoom will not give a good image with a small monitor resolution. The contours of objects will be indistinct. Details will not work out. Therefore, it is better to select this parameter in pairs.
Compactness, weight, and protection of the case
Many extended life models are equipped with a powerful batteries. It is generally quite heavy and adds weight to the monocular. Additional features add weight, too, not to mention the case material. Here it is better to focus on your feelings and the total weight of the backpack's load. It is worth paying attention to how you plan to use the monocular: wear it on a helmet, use it as a thermal imaging sight, as a telescope, or for observation on a tripod. Lighter and more compact models are universal for use, but it is worth paying attention to their degree of protection. It's good if the body is made of lightweight impact-resistant alloy or composite material. It will not be superfluous to be protected from moisture according to the IP67 standard, as for excellent additional functions such as Bluetooth, Wi-Fi, rangefinder, compass. As a rule, they all drain the battery faster. For example, Wi-Fi will drain the battery faster, especially in cold weather. It is worth choosing a model with an increased battery capacity or having an additional replaceable battery. If these functions are not needed, then this will save money when selecting a model.
When choosing a thermal imaging monocular, you need to take your operating conditions to the maximum. Everything matters, from the outside temperature to the opening hours. Your habits, your physique can all be necessary when choosing your equipment. With a clear understanding of the tasks and conditions, focus on your comfort in use. We sincerely wish you the best in your difficult choice and hope that your purchase will serve you flawlessly for many years.