Thermal imaging binoculars - your best hunting aid
We immediately want to dispel another myth: it is not valid if you think that a thermal imaging device can be used only in the dark. Thermal imaging binoculars can help a hunter track down his prey, and this device can be successfully used to protect objects, search, and identify offenders. It can successfully perform its function both at night and during the day, both in difficult weather conditions (heavy rain, snowfall, thick fog) and in the case of atmospheric pollution (smoke from a fire).
What is the secret of the popularity of this device?
Any object that surrounds us, except for bodies cooled to absolute zero, is a source of thermal radiation. It is also called infrared, and this radiation is outside the spectrum visible to the human eye. Thermal imagers capture this radiation and convert it into a picture that a person can perceive. It is important to note that the intensity of the glow depends on the temperature. Since it is different for trees, stones, and living organisms, thermal imaging binoculars provide a contrast image that helps to distinguish objects of interest to us.
Let's take a closer look at the principle of operation and the main advantages of such binoculars. At their core, thermal imaging binoculars are binoculars equipped with a thermal imager. Its advantage lies precisely in the fact that it has absorbed all the best from both devices. The binoculars provide multiple magnifications, and the matrix converts the infrared image and allows you to get a clear vision of the object at a distance of up to two kilometers. Among the main advantages of thermal imaging binoculars are:
• The binoculars are capable of successfully detecting and recognizing objects in conditions of bright oncoming light;
• The image that a person sees will be equally contrasting at any day and in any weather. That is, the level of illumination does not matter.
• Obstacles in the form of dense green spaces, tall grass, or snow will not prevent you from seeing the object of interest;
• Binoculars are more effective than night vision devices because they do not need infrared illumination and are more convenient than monoculars;
• The presence of a function that allows you to take photos and record videos, saving all received data to a memory card.
Below are the models of binoculars worthy of the attention of true connoisseurs of quality hunting accessories.
1
AGM COBRA TB50-336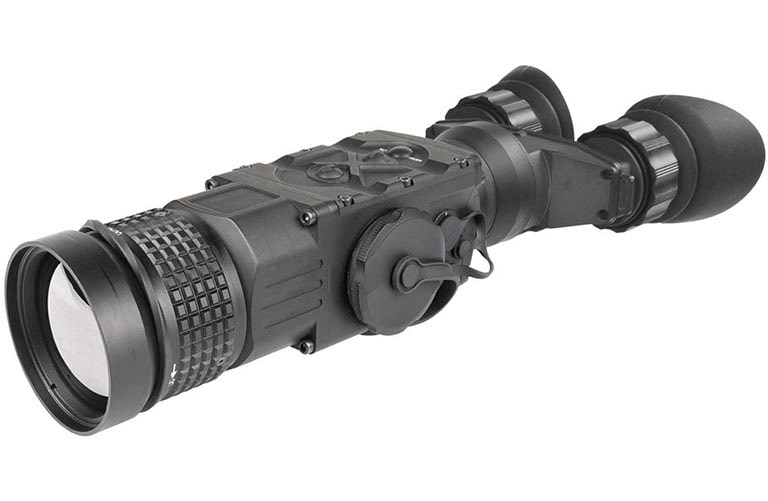 Therefore, the first in our review will be the model of AGM Cobra binoculars - this is one of the newest and most modern technological thermal imaging devices for surveillance. The device is currently available in the US market and is in high demand among professionals. The bio-eyepiece is made of aircraft-grade aluminum alloy, which is characterized by its high quality. The main advantages of this material are lightness and strength. Another advantage of the AGM Cobra is its water resistance, making the binoculars excellent in bad weather conditions. The easy-to-understand and straightforward AGM COBRA TB50-336 interface, ergonomic buttons, and the presence of a wireless remote control make it easy to use and implement. Due to the FLIR TAU 2 VOx microbolometer in its device, Cobra offers various image palettes: hot black/hot white/rainbow, and so on. These palettes can be easily adapted to suit different environmental conditions. The binoculars can work either with two CR123A 3 V lithium batteries or with two CR123 rechargeable batteries, the voltage of which is from 3.0 V to 3.7 V. In addition, the presence of an external battery pack, which can be connected via a standard micro-USB port, allows extend the operating time of the device. The advantages of this device also include tripod mountable and manually adjustable eyepiece and objective lens.
Now let's take a closer look at the products of one of the major industrial giants, the ATN corporation. It is one of the leading manufacturers and developers of precision optical night vision devices and thermal imagers. Over the past twenty years, ATN Corporation has developed a wide range of low-light surveillance optical instruments highly sought after by the general public, law enforcement, and the military. However, let's take a closer look at the use of ATN thermal binoculars for hunting.
Thermal binoculars are the most effective thermal imaging tools. Previously, some hunters preferred separate thermal control over conventional binoculars due to their smaller size and low cost. But today, against the backdrop of rapidly developing technological progress, which does not stand still, thermal binoculars are becoming more compact, cheaper, and their popularity is growing.
One prime example of a compact pair of thermal binoculars is the BinoX 4T series, first unveiled at the exhibition center in 2019. This entire product line combines practicality and functionality with an impressive list of high-tech features following all standards.
All 4T products have the following features: Bluetooth, 3D magnetometer, microphone, 3D accelerometer, laser rangefinder, 3D gyroscope E-Compass, and intelligent rangefinder.
In addition to the listed functions, all 4T products also have in their arsenal: screen resolution: 1280 × 720, WiFi capabilities: iOS and Android, as well as the function of working at high and low temperatures.
In terms of design, it is clear that the creators of ATN binoculars have thought through the look and overall design of their BinoX 4T series down to the smallest detail. Matte black and gray finishes cover the rigid plastic body, making it surprisingly stylish for hunting gear. Accessories will be another nice bonus. For example, a USB-C cable, a soft carrying case, a neck strap, a lens cap, and a cleaning cloth are usually included with a BinoX 4T product.
This series includes two product lines: Model 384 and Model 640. We will discuss each of them separately below.
2
ATN BinoX-4T 384 Thermal Binocular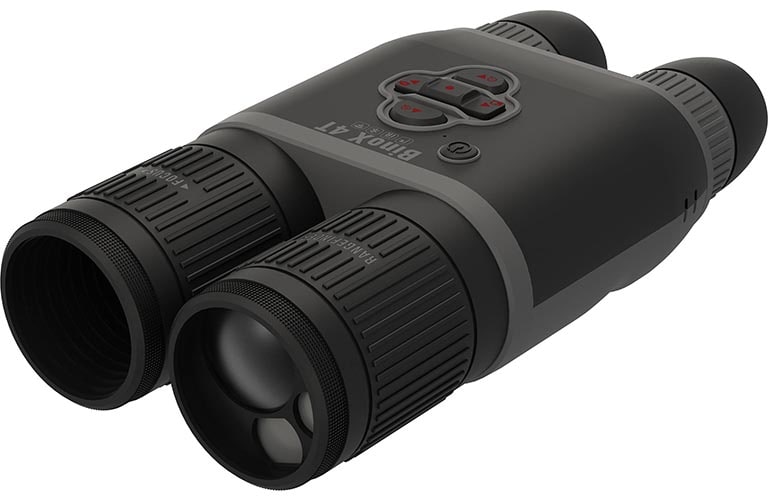 The 384 line consists of three optical instruments with different magnification characteristics: 1.25-5X 2-8 X and 4.5-18 X. All 384 models have a thermal resolution of 384 × 288.
Each BinoX 4T boasts a built-in lithium-ion battery that lasts up to 16 hours on a single charge, so a pair is ideal for extended hunting trips.
It is elementary to understand the use of binoculars from the BinoX 4T line, thanks to the thoughtful yet straightforward design and a high level of attention to detail. On the main screen, information about the photo-shooting mode is displayed. In the video mode, the duration of the video is displayed. In addition, there you can check how much battery power is, whether an SD card is inserted or not, and is displayed when Bluetooth and WiFi are turned on.
The user can choose from five-screen brightness levels, depending on whether he prefers a standard or metric system for the date and time and which widgets he would like to see on the home screen. In addition, the user can choose which mode to activate: color or black hot/white-hot. Customization is always welcome as the hunter can customize the gear to provide an optimized hunting session according to his preference.
The BinoX 4T series is weather-resistant so that the binoculars can be used in all conditions, including rain, snow, and fog.
What makes this product more attractive? This is thanks to the fact that the manufacturers firmly maintain their quality and craftsmanship. All products in the BinoX 4T range are backed by a good ATN warranty, effective from the date of purchase.
ATN takes excellent care to ensure that their thermal binoculars are as comfortable to use as regular binoculars. The pupil adjustment range is 60 to 70 mm, while the eye relief of binoculars is 10 to 30 mm. This means that the binoculars will be comfortable for everyone and easily adjusted to suit your preferences.
Compared to conventional binoculars, the BinoX 4T is compact and easy to use primarily due to its compact size (9.4 x 5 x 2.6 inches).
3
ATN BinoX-4T 640 Thermal Binocular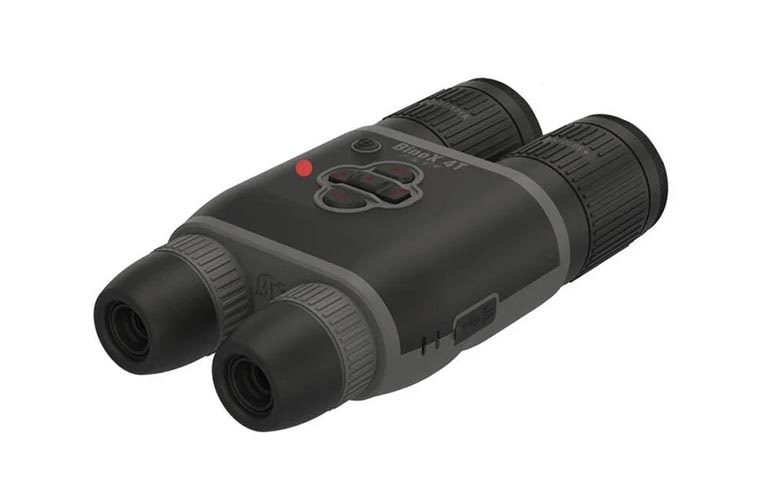 Has ATN developed a series that lives up to its reputation as a dominant company in the industry? The answer to this question is unequivocal yes. The weather resistance of the binoculars, the 4th generation sensor, and the capabilities of the laser rangefinder are the main advantages, as well as the ease of operation and use.
The ATN BinoX 4T series products are worth considering. The ATN binoculars show a strong market demand, and it became clear that the users' wishes were taken into attention throughout the design process. Of course, the 4T line cannot be called the budget, but a beginner who wants to be adequately equipped is a profitable investment.
Let's take a closer look at the ATN BinoX-4T 640, which consists of three optical devices with different magnification characteristics: 1-10X, 1.5-15X, and 2.5-25X. The 640 series has a thermal resolution of 640x480.
Below, let's take a closer look at the features of the ATN BinoX 4T 384 and ATN BinoX 4T640 technologies:
Gen 4 Sensor is the latest technology that has been intelligently built into the sensors of the BinoX 4T binoculars. BinoX 4T 384 products have 384 × 288 thermal sensors, and BinoX 4T 640 products have a 640 × 480 thermal sensor. This sensor is also one of the key differences between the 384 and 640 products.
Laser rangefinder - means that it can be used both day and night no matter what. Using a laser rangefinder, you can determine the distance to the target and improve the accuracy of the range.
In addition, all binoculars in the 4T range are equipped with built-in IR illuminators.
Ballistic Information Exchange (BIX) is the technology that makes everyone talk. ATN Smart HD devices use BIX to provide communication and information exchange between devices. In addition to its ease of pairing and use, this technology is independent and does not require any applications or additional hardware to operate.
All ATN Smart HD optical products can record video and take photos by saving files directly to the built-in Micro SD card. The Obsidian IV Dual Core allows you to record 1280x960 video to your SD card simultaneously and HD video streaming over Wi-Fi so that friends and family who could not join you on the hunt can watch you.
4
DALI S730 Thermal Binocular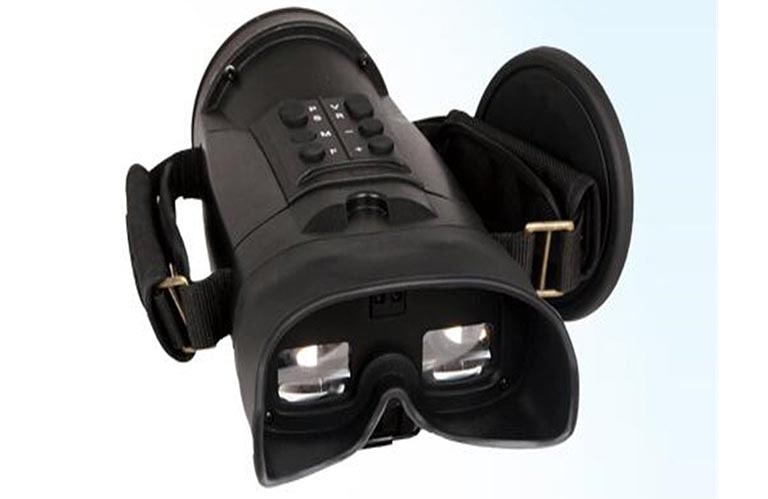 The DALI S730 is a range of handheld thermal imaging binoculars with 384 x 288 resolution, small size, lightweight, robust design, and easy operation. It is suitable for surveillance in all weather conditions, and this device can also be used for search and rescue operations.
The S730 is equipped with a quality lens for capturing thermal radiation. The field of view of this thermal imaging binocular is 7.3 x 5.5 degrees. It features 2x digital zoom to capture additional details.
An uncooled 35-micron sensor measuring 384 x 288 pixels with a refresh rate of 50 Hz is integrated inside the S730 case.
This thermal bio-eyepiece measures 213 x 127 x 114 mm (length / width / height) and weighs 1540 g. It can withstand dust, shock, water (splash), and submersion. The operating temperature range is -20° C to 50° C. The S730 can be used for surveillance missions, law enforcement, search and rescue operations, military operations, and firefighting.
Measuring the temperature of moving objects in real-time makes monitoring more efficient and flexible. Rechargeable batteries provide three hours of continuous operation; intelligent charging and energy-saving system ensure long-term operation and measures multiple temperatures—built-in flash memory up to 100 JPEG images.
Dali's S730 is an affordable, ergonomic infrared binocular that can quickly and accurately identify potential threats to your safety. It gives you an instant solution to see what is hidden day and night.
5
Pulsar Accolade XP50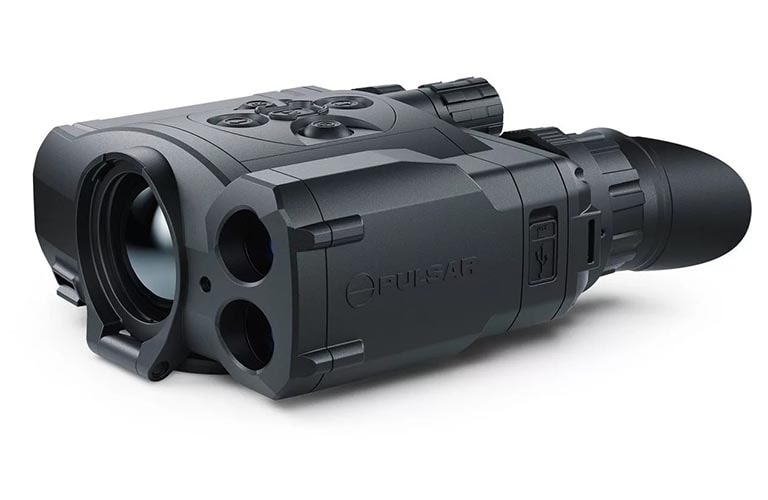 The Accolade is Pulsar's first and one of the few and one of the few electro-optical devices on the market with adjustable interpupillary distance. Usually, night binoculars have a fixed interpupillary length of 64-66 mm, which allows an ordinary user to use the binoculars with comfort. Ghosting of the image in the first few minutes, while the brain is adapting, is inevitable. The Accolade can adjust the interpupillary distance from 56 to 71 mm by simply moving the eyepiece blocks to suit you.
Due to the convenient structure of the case and the cruciform arrangement of the main functionality, it is not difficult to hold the binoculars with two hands and operate them with the fingers of both hands. At the same time, the device's weight varies from 600 to 700 grams, depending on the model, which means that it can be held even with one hand for quite a long time.
Pulsar Accolade XP50 is a pseudo-binocular: there is one objective for a pair of eyepieces. This scheme does not provide full stereoscopic, but it gives all the other advantages of binocular vision.
First, the image from the eyepieces falling into both eyes helps the brain to confirm the presence of natural images and filter out false ones. That is, the device improves the ability to notice small and subtle objects.
Secondly, binocular vision increases the efficiency of "reading" data by 40% in high humidity conditions (during or after rain, in fog, and so on). But image contrast plays a vital role in the detection and identification process. With two eyes, you will see halftones, wherewith one eye - you will see a solid background.
The most significant advantages of Pulsar Accolade XP50:
 thermal imaging binoculars include a reliable power system due to quick-change B-Pack batteries;
 live image transmission to the Internet, the ability to take photos and video of the observed image to the built-in recorder;
 the ability to transfer images to a mobile phone via WiFi using a branded migratory Stream Vision apps;
 smartphone control of binoculars, waterproof, user-upgradeable software;
 switchable color palettes.
The Accolade XP50 features a higher resolution sensor, a 50mm focus lens, a larger field of view, and a more comprehensive zoom range.
Modern night hunting is a high-tech activity. In conjunction with the common sense of the hunter, the available equipment allows you to increase the chance of reaching the target, minimize the number of misses, and exclude shooting at fuzzy targets. In other words, it makes hunting less dangerous and more effective. Accolade thermal imaging binoculars are an excellent way to add comfort to efficiency.
6
FLIR BHS-X Command Thermal Bi-ocular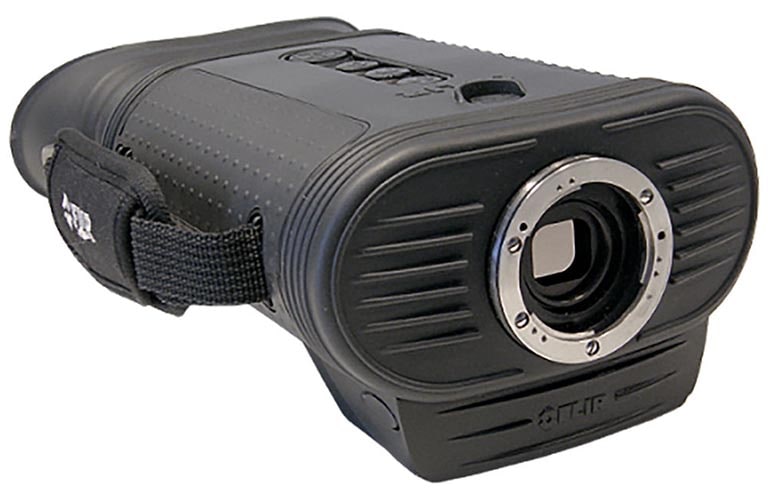 The BHS series is a shock-resistant thermal imaging camera capable of producing precise images even at night. With their help, security and law enforcement officers can see intruders in complete darkness through smoke and blinding light. The BHS-Series provides users with an even more comprehensive range of thermal imaging capabilities and functions.
The main benefits of the FLIR BHS-X Command are:
•, Unlike traditional night vision devices, thermal imaging cameras detect heat radiation and temperature differences.
• Quick release lenses. There are three lenses to choose from 35 mm, 65 mm, or 100 mm. Protruding rubber rings and low-profile captive caps protect the lens from damage.
• Quick change of batteries and connect to the power supply.
• Standard photo and video shooting.
The BHS-X thermal imager is available with 2x digital zoom. BHS-XR cameras have 2x and 4x zoom, which allows you to explore the object in more detail, if necessary. The FLIR BHS Series cameras are compact and extremely lightweight, weighing less than 1000 grams (with rechargeable batteries). The ergonomic and easy-to-use thermal imaging cameras of the BHS series are fully controllable with just a few buttons. Thermal imagers of the BHS series operate silently. The battery compartment houses four AA Ni-MH batteries. They are capable of providing four hours of continuous operation.
BHS series cameras are binocular, so working with them is less tiring on the eyes than with monocular cameras.
What Are Best Thermal Binoculars Good For?
The human visual system is binocular. As a species, humans are programmed to receive visual information with two eyes. In addition, binoculars, not a monocular, allow us to reveal all the possibilities of our vision fully. Binoculars have accompanied hunters on their journeys for decades. What used to be a simple tool is now specialized high-tech equipment that serves various secondary purposes.
The creation of this device is a true testament to the miracle of modern science. Thermal imaging devices are preferred by hunters because, unlike night vision devices, they do not require light to operate and can be used in all weather conditions.
Benefits of binocular systems
The binocular scheme in optics with a thermal imager is used much less often than the monocular one. However, this scheme provides maximum comfort and a high level of information content during observation. In other words, thermal imaging binoculars, unlike monoculars:
• make small and weak objects more visible;
• 40% increase the efficiency of recognizing low-contrast scenes, which is especially important if the observation is carried out in the fog, rain, smoke, or in low light conditions (for example, at dusk);
• less tiring on the eyes.
Devices for observation with thermal imagers are compact: weigh about 500-700 g and operate on batteries for 5-7 hours. Unlike night vision devices, they do not need infrared illumination and can be used in the dark and in the daytime.
Thermal imaging binoculars are a type of observation thermal imagers. It can be used for hunting, in security activities, monitoring the territory, and searching and rescuing people when performing particular tasks.
Binoculars with a built-in thermal imager are portable device that allows you to identify objects by their infrared radiation. It is also used to track down prey in poor visibility conditions. Professional equipment plus the common sense of the hunter can reduce the number of misses exclude shooting at unclearly identified targets.