When the night quietly descends to the ground and envelops it in impenetrable darkness, we become helplessly blind and uncertain in assessing the events taking place under cover of night. Brilliant minds who could not come to terms with this situation and wished to gain advantages in the darkness of the night invented the technology of night vision. She gave us an active nightlife and solved many impossible tasks in the past. Fantastic opportunities opened up before us for night observation, hunting, security, and tactical operations. Today we are going to talk about the best night vision goggles. Let's discuss what to look for when choosing night vision goggles. Finally, let's choose a favorite from our list.
Best Night Vision Goggles for 2021
We have compiled a list of worthy representatives of night vision from our point of view. Each model has its unique advantages and benefits. Taking into account our information and their conditions and tasks, everyone can choose the perfect night vision goggles. So, let's begin.
1
AGM NVG-50 NL2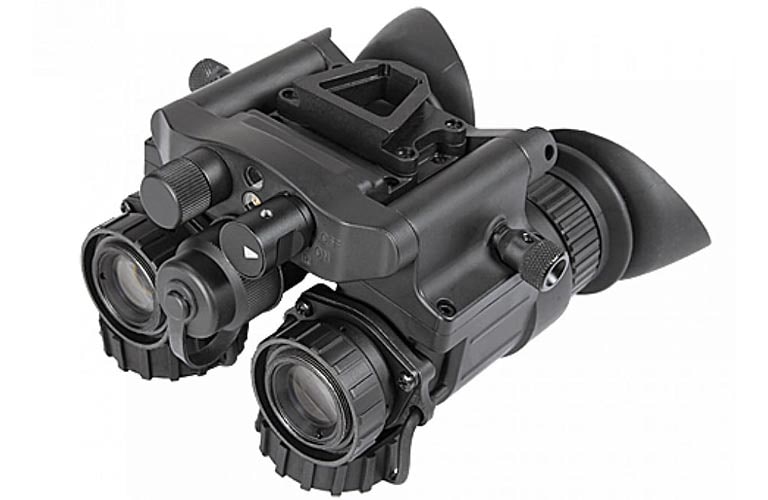 The first on our list is the AGM NVG-50 NL2. These are Gen2 + generation night vision goggles, which both professionals and ordinary users use. NVG-50 NL2 glasses provide clear images of high quality and an excellent viewing angle of 51 degrees. They have true stereoscopic vision and give a realistic idea of the distance of objects. The detection range ranges from 9.8 feet to infinity. These are versatile glasses suitable for focusing on near and far targets. The NVG-50 uses high-tech multi-coated lenses that improve light transmission, provide glare protection and repel dirt.
For observation on absolutely nights, they are equipped with an infrared illuminator and a searchlight. The device is equipped with a flash protection system that guarantees stable operation in rapidly changing lighting conditions. If you wear glasses, then the diopter adjustment in a wide range will allow you to customize the device to suit your particular vision.
Note the simple and intuitive control, lightweight and durable body, as well as convenient power from one battery. Despite the presence of one battery, the glasses can work continuously for 20 hours without recharging or 80 hours with an additional battery.
The lightweight and compact NVG-50 can be attached to a helmet using the included attachment system or the head mount system without a helmet and work as binoculars.
The device occupies a middle ground between high-quality, durable equipment and an affordable price. It will be suitable for hunters, doing duty, and protecting property.
2
Nightfox Swift Night Vision Goggles
These are the most affordable night vision goggles for close-range observation. They will be indispensable for home security surveillance in rural areas, hunting in small spaces, night observation of nature, or sports games like airsoft.
This model is very lightweight, can be used on its own, or can be attached to a helmet using a GoPro-style mount on the top of the device. The set includes straps for securing to the head without a helmet.
Nightfox Swift has a 10-degree viewing angle, has a built-in battery for three hours of operation, IR illumination, and a small 320x240 screen resolution. The declared range is up to 76 yards.
They can change the backlight level of the IR flashlight and the degree of screen backlighting. For comfortable viewing, we recommend that you take some time to adapt to focus and spatial perception.
Note the impossibility of using an external battery while the device is operating and the poor image quality, as well as the need to turn your head to view the area due to the effect of "pipe vision."
We clearly understand that adequate equipment is required to solve simple tasks. But with minimal requirements and a limited budget, this is what you need. The NV luxury segment would be impractical for tracking wild pigs in the backyard of a home. Therefore, we advocate a rational approach to night vision equipment, and we think that the Nightfox Swift is an excellent choice for the money.
3
Solomark Night Vision Binocular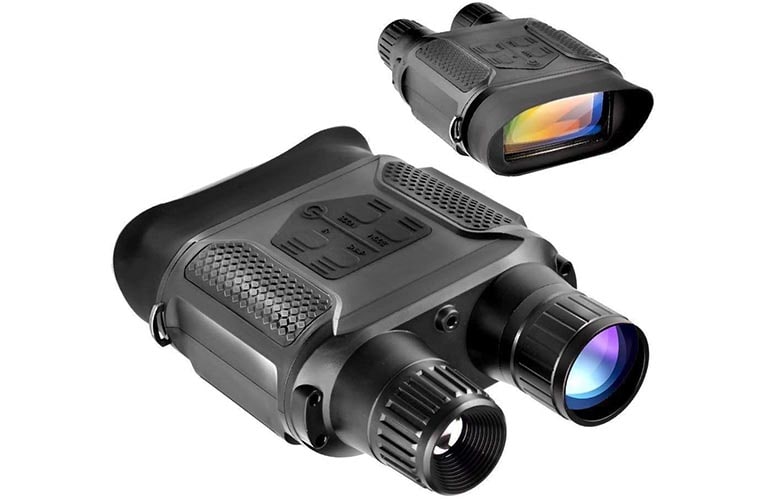 Solomark night vision binoculars are suitable for night wildlife observation, fishing, hiking, paintball, or hunting. This binocular is equipped with a 4 "screen, two 31mm objective lenses, and a 1/3" CMOS sensor. It comes with a memory card from 7 to 32 GB and a USB cable for viewing files on third-party media. It is noteworthy that it can work like binoculars during the day. With it, it is quite possible to get good color photos or videos in HD quality. It claims 7X optical zoom and 2x digital zoom. It is equipped with IR illumination. With Solomark, you can detect targets up to 1,300 feet away in total darkness.
Among the disadvantages, users mention the immense weight of the binoculars, and when powered by eight batteries, the total weight of the equipment is somewhat inconvenient.
These are budget night vision binoculars for non-professional purposes. For a comfortable price, it will replace binoculars during the day, night vision goggles at night and preserve pleasant moments for home viewing. For camping, fishing, hunting, and sports, this is a perfectly acceptable option.
4
Nyte Vu NV60 night vision goggles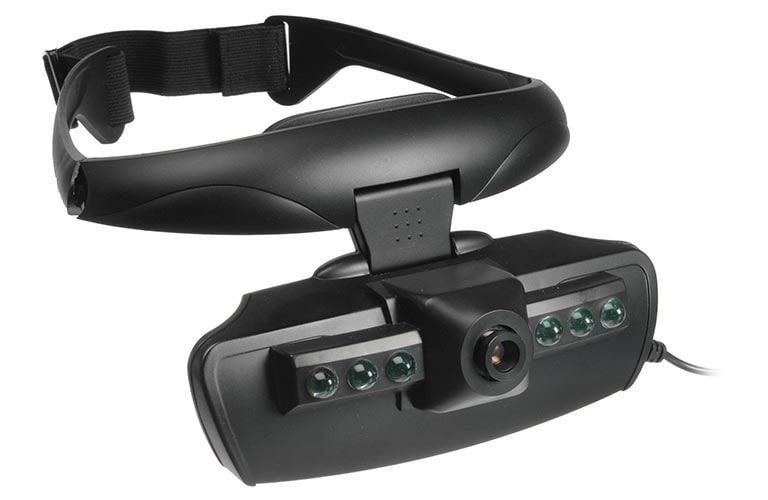 Night vision goggles Nyte Vu NV60 are a relatively light body with a screen equipped with two eyecups and a head mount. They are designed for the needs of anglers, hunters, home security surveillance, outdoor sports games. You can play video games with headphones connected.
The glasses are equipped with a single zoom, a viewing angle of 22 degrees, an IR diode for illumination. They can work at room temperature for three hours.
Among the shortcomings, we note not high image quality and poor zoom when working at long distances. It is instead an entertaining model of night vision goggles for little money. But for the everyday needs of an ordinary person, its capabilities will be quite enough.
5
PRG Defense Apache Aviator A-9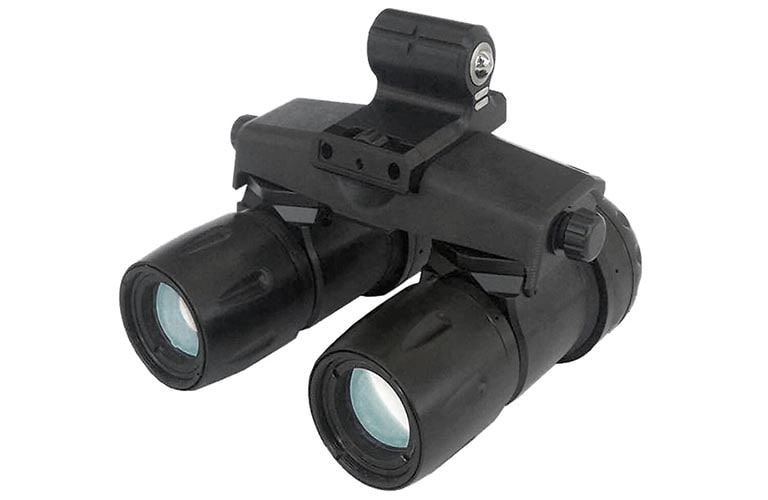 PRG Defense Apache Aviator A-9 is a serious Gen 3+ night vision equipment for professionals. Lenses are in the line for the equipment of the US Army and Navy. They can be made in both white and green phosphor. These glasses make it possible to see in almost complete darkness without illumination. Nevertheless, they have a built-in IR illuminator and allow you to detect a target at a considerable distance.
They have a viewing angle of 40 degrees. There is a diopter adjustment. You can comfortably select the center-to-center value and tilt adjustment up to 10 degrees. There is no doubt that these options provide an optimal fit for the glasses.
The equipment has an auto gating system. The weight of the equipment, including mounts, is about 22 ounces. The claimed battery life is about 80 hours. There is a possibility of recharging during operation.
Everything about these night vision goggles is excellent except for the high cost. In addition, Gen3 generation and above are prohibited from sale to non-American citizens. And also has several restrictions on transportation across the US border for citizens of the country.
6
ATN PS15-3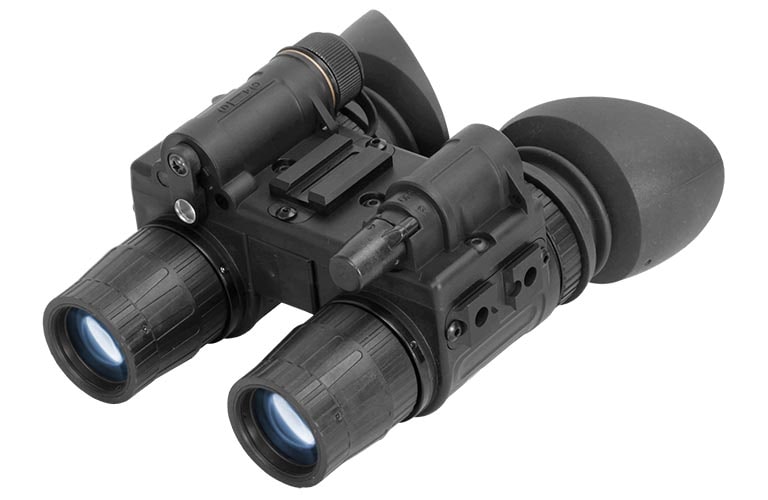 ATN PS15-3 is a third-generation night vision goggle with a film ion barrier on MCP, and a gallium arsenide coated photocathode. These glasses give clear images in deplorable lighting conditions and complete darkness with an IR flashlight; from 9.8 inches to infinity, observation is possible.
40-degree viewing angle, interpupillary adjustment, dual image intensifier, and stereo vision provide excellent spatial image characteristics and comfort of movement.
ATN PS15-3 has an auto strobe system, which gives an almost instant response to changes in lighting. The NV goggle body is water-resistant and can withstand immersion in 66 feet of water for 60 minutes.
Battery power allows monitoring for 60 hours. NV goggles can be used as binoculars, attached to the head or helmet for hands-free operation, and used for working with third-party equipment.
These are high-end night vision goggles with almost unlimited possibilities of use. The only thing that may be an obstacle to buying is not a modest price tag, but if the budget allows, then ATN PS15-3 should be taken into account.
Know What You Need To Get the Right Gear
To get the right gear, we recommend focusing on your conditions, tasks, and comfort. What works for your friend a coworker may be inconvenient for you. It is always worth doing some research before deciding whether to buy a particular night vision goggle. Our formula for choosing night vision goggles looks like this: "conditions + tasks + budget + comfort = goggle model".
Conditions
To begin with, it is worth deciding on the climate, the degree of illumination of the space. If the nights are overwhelmingly dark, you need glasses not lower than Gen 2, but better Gen 2+ and higher, with good IR illumination. With the rise of the generation of night vision goggles, image clarity and a sense of depth are correlated. And the higher the age of NV glasses, the darker conditions they can work without backlight. It is worth considering this fact when choosing night vision goggles. On fairly bright nights, budget equipment will suffice.
It will not be superfluous to know in what temperature regime you have to work. Each piece of equipment has a specific temperature range for use. The high-end segment has an extensive temperature range. In bulk, it ranges from -40 ° F to 122 ° F. In the mid-price part, the content is narrower, but it entirely covers the main territory of the United States, outside the zones with extreme conditions. For the cheapest segment of night vision goggles, the operating time will directly depend on the temperature outside. Please do not count on its long-term operation during frost. To increase the working time of the equipment, it is worth providing an additional replaceable battery.
Tasks
Everyone's needs are different. It is worth deciding the question: "What do I need night vision goggles for?" It's one thing when glasses are purchased for entertainment, recreation, a favorite hobby, and quite another something when it comes to professional activities. The choice of the model directly depends on this. Let's say you have a real estate security business. Then the use of night vision goggles not lower than Gen2 + will be fully justified. The use of the same glasses for observing the life of bats will be somewhat unjustified by the budget. There is always something more suitable for a wallet and a hobby.
Before buying, you need to determine the detection range of the intended target. This can work at short distances, significant distances, or you need a device with universal settings.
It is worth asking yourself the question: "How large is the target that I want to detect?" Spectacles capable of detecting a moose at a slight edge of the forest and glasses capable of distinguishing a coyote at the other end of a vast field at night are completely different glasses. They have different characteristics and different price categories. If, for the first case, inexpensive glasses will do an excellent job, then in the second case, you will need glasses of at least the second generation and above, with a good detection range and excellent IR illumination.
The factor of detection of night vision goggles is also essential. If you play airsoft, the enemy will quickly detect your presence by infrared light. If night vision goggles are unable to work without it, then your business is terrible. But of course, there is a way out. This is the Gen 3 generation and above. As a rule, these glasses are used by law enforcement agencies for covert surveillance. They can be effective in near-total darkness. But the price matches the quality.
When choosing night vision goggles, it is worth considering the light factor. Headlights of a passing car, lanterns, brightly lit windows of houses, a bonfire, searchlight, fire, or explosion can damage night vision goggles. In these cases, the bright flash protection system has proven itself well. It's all about the response time. In more expensive models, it is almost instantaneous, and in more budget versions, it lags a little in time. Where strictly night vision goggles are used directly influences the choice of goggles. The conditions of the city and professional duties will require more technological equipment than hunting in the night forest.
Comfort
We cannot discount the individual characteristics. Some will find heavy glasses uncomfortable. Others will find them quite suitable when using a counterweight. And still, others will prefer only light models with maximum adaptation to their characteristics or will use glasses as binoculars. The weight of the glasses, how you plan to wear them, the degree of customization for the individual parts of the user can affect the choice of model. You need to know what equipment you already have in your home and what mounting systems are compatible with. For example, you have a helmet. And you plan to wear night-vision goggles on your helmet. Inquire about the compatibility of the mounts. These are not small things. They are what makes life more comfortable.
It is important what kind of vision you have, whether you use glasses. Some models can adjust to their diopters, but not all. When choosing HB glasses, this factor should be taken into account.
Along with this, it is worth inquiring about the possibility of recharging night vision goggles while working. There is such an opportunity in the upper price segment. Some models can be restored from the battery attached to the helmet and will not interrupt operation. But most models will require a battery change or additional time to recharge the built-in battery. As you understand, there is not always such an opportunity in the field, but when used near home, the picture changes. When there is no way to recharge the equipment, it is worth looking towards a longer usage time or an extra battery pack.
Choosing a manufacturer with a solid reputation, excellent after-sales service, and a vast network of stores within walking distance is essential. You definitely won't want to mess with dealers and third-party returns. It is better to do this with the manufacturer directly, in his corporate network. And also have excellent warranty conditions.
Before buying night vision goggles, we recommend that you take your helmet with which you intend to wear the goggles and try them on yourself. Dress, customize, walk around, and take time out to think. An even better way would be to rent or from friends and test the night vision goggles in real life. Then you will understand precisely how justified your expectations are and whether it is worth making a purchase.
Of all the categories listed here, for ourselves, we have chosen AGM NVG-50 NL2. These glasses are in the mid-range price bracket and yet have features from the high end of the market. We will use them for work and hunting. They have the widest viewing angle of 51 degrees, which is not typical for this price category. AGM NVG-50 NL2 glasses give a very pure, contrasting, clear image, even in complete darkness. These glasses have a wide temperature range, and they work great in both cold and hot weather. Besides, 80 hours of work with an additional battery is okay for us. But in fairness, 20 hours of operation on one battery is also excellent. Special thanks to the developers for the diopter adjustment and individual settings for the eyes and helmet. We are very comfortable, despite slight myopia. We are pleasantly surprised by the easy navigation and the quality of the NVG-50 NL2. But, as we indicated earlier, these are the ideal glasses for us personally. Which night vision goggles are suitable for you, only you can decide, and no one else.